Hello all, and happy Monday. Over the weekend, I popped into the Old Navy, and picked ups some stuff for DD, but managed to find a thing or two for myself. For some reason, this lovely oversized grandpa cardigan was only $10. It was sooo warm. I wish I'd bought another one just for lounging around the house. And umm, I guess its
$25 online now
?
I think a bunch of you have this tweed skirt from Talbots, it was pretty popular this summer, came in yellow, pink and green - maybe blue too? At any rate, I am a huge fan.
Also, this necklace marks my first (and therefore oldest)"casual" piece of Judith Ripka jewelry I bought, The first items were for my wedding, but this I bought just for fun. Yay.
Argyle Cardigan - Old Navy
Yellow Tweed Skirt - Talbots
White Tee - Target
Shoes - Gretta via 6pm
Pendant and Chain - Judith Ripka -"Q-line" via QVC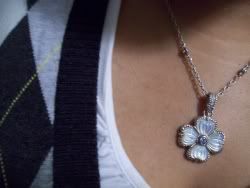 As always thanks for reading!!