Hi everyone! I am back from a 6 day cruise. It has been crazy around here, between budgeting going on a work earlier than usual, and coinciding with the vacation that I meticulously plan to NOT coincide with budgeting - well its been crazy. Needless to say, I have LOTS of catching up to do. Please be sure and enter the $75 CSN giftcard giveaway - its a good one!!

Here is today's outfit. Its uniform time hehe. So, I can see I totally missed all the great Columbus Day sales! Did anyone snag some new goodies? I would love to hear about it.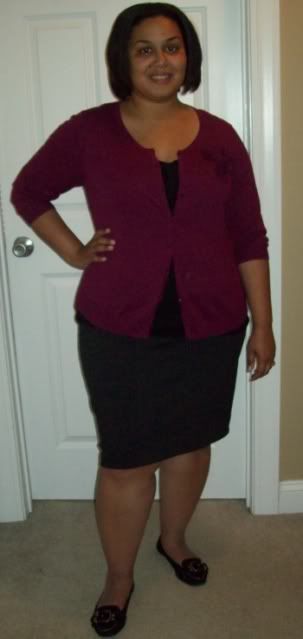 Cardigan - Talbots Fall 09
Tee - Loft Fall 09
Skirt - New York and CO Fall 09
Shoes - Chadwicks ?
As always, thanks for reading!!