So, I went to the Loft weekend event. There were LOTS of new things in store, but the current color palette is not the best for my skin tone. Gives me a 'muddy' look. I brought my daughter because she LOVES the goodies that are in store usually for these events. But my store didn't have any LOL. She was a little bummed.
So, I didn't find much to take into the dressing rooms, however, I did try on a few jackets....
The first is the
Cropped Tweed Jacket
.
I do think this is cute, but not sure about it being cropped. I like my jackets to hit a little lower on the hip. I think it gives me a VERY PEAR look and I prefer to look a little more balanced. I might get this in the end, but it will have to be much less than $148 - 30% because I will not get as much use out of the crop look.
It looks GREAT on Gigi
Here it is on me in a misses Large. The large fit great, buttoned without gapping and was perfect in the shoulder.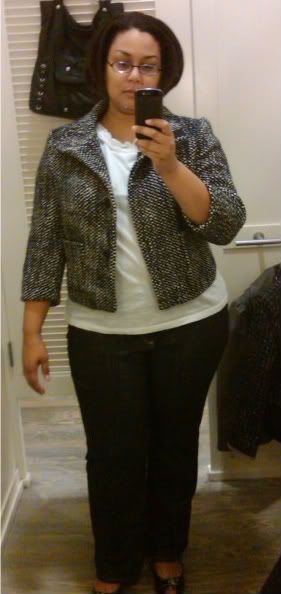 The next one I tried was the
Tweed Jacket with Chain Detail
:
Here is it on me in a Misses Large:
This one is a little odd for me. Its a zip jacket, and has sort of that stretchy bomber jacket waistband, so when you zip it it crops up even further. (boo) The XL was too boxy/large, and I felt this large was way too small.
I am also considering a similarly fabricated
tweed jacket from Speigal
. Its a little cheaper than the Loft one, and no stretchy waistband.
The final item I tried was also a jacket,
the cotton sateen jacket with ruffle collar
(that's a mouthful):
This is a really, really nice jacket. Do not be fooled by the horrible photo of it online. I love the drama on the collar there. I would totally have purchased this item, but it was out in my size. It comes in numbered sizes, the one I have on below is a 12, and I really needed the 14, possibly a 16. If they get a 14 in, I will check it out again. See my sad face below? LOL
Did you guys find anything?