Hi all,
Hope everyone is having a great week so far. :-P
This is me at La Terasita in Tampa (a must eat) recently. They have spruced the place up a bit since last time I was in town, but the food is still cheap, yummy and plentiful. Here I am with fried plantains, black beans and rice and vaca frita (Friday Nights only) Delish!
Ok, here is todays outfit,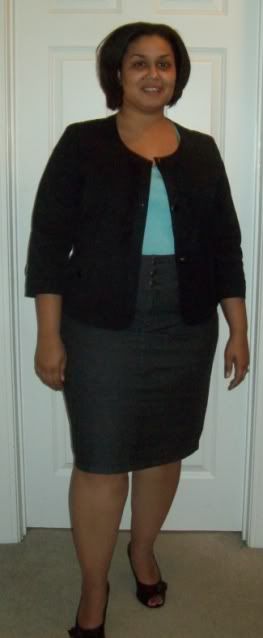 Jacket by Talbots
Sweater by Loft
Shoes by Aersoles
And here is something from last week sometime? Not sure when I took this, its been a bit of a blur. Its "budgeting time" at work and being one of the few analysts at our company, its CRUNCH time for me. I may be in and out over the next month or so for that exact reason.
Sweater by Talbots
Pants from Target
Tee from Talbots
Am I wearing shoes? I hope I wore some to work this day.
Hope everyone is doing GREAT, and thanks so much for reading!