How was everyone's weekend? Do you know my daughter's school was in session yesterday? Instead of extending the school year, they attempt to make up for snow days on holidays. It seems pointless - why would someone send their kids to school on a holiday? And if the point is to make up a snow day, why do it on a day no one will send their kids to school? It all makes little sense to me. :-/ Ha.
So I did happen to make it to the Loft sale this weekend (of course) and found a couple of things (of course). My hubby picked out the top.... I would not have looked twice at it, but it was his pick so, I tried it on, and loved it. Its super pretty. I wish it photographed better!! I put the Loft photo at the bottom, since you can see the top better in it.
I got the XL in this one, did not try the large. The jacket is also an XL - often with jackets at the Loft I can go either L or XL depending on how I want it to fit. I really needed the XL on this one.
The Stuff
Silk Blouse with Dropped Waist
- Loft $32.00
Ruched Waistband Jacket
- Loft $47.00
Denim Pencil Skirt - Loft $25 (summer 08)
libby edelman espadrille wedges
- Belk Dept. Store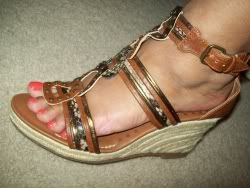 These are some new shoes I got. I know there is some rule about short people and ankle straps. But, I love these shoes!! The polish is "Don't be koi with me" by OPI.
As always, thanks for reading!!