Hubby and I swung by the mall briefly before dinner, and look at what my NY and CO looked like.....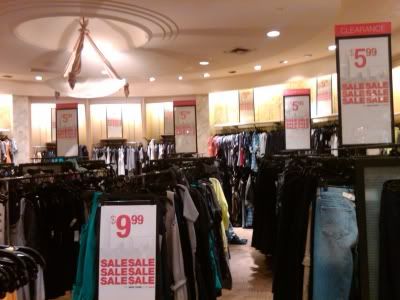 Yes, much of the back half of the store, and assorted parts of the front were $5.99. It was sort of random with $5.99 signs all over. I scored jeans for my daughter and got myself a denim shirt. If this store is one you like, you should check it out! :-) Oh, not to mention there is an additional 15% off all purchases.
I am all settled in now for a long night of Turner Classic Movies :-) Happy Friday everyone, and as always thanks for reading!
The Stuff:
Twisted Silk Trim Tee
- Loft $10
Denim Boot Cut Jeans
- Talbots $29
Cotton Dobby Jacket with Ruched Collar - Loft $29