but you? You are blue roses!!
~ The Glass Menagerie, Scene 7, Tennessee Williams
I actually don't know if these flowers are supposed to be cabbage roses, or ranunculus, or some other fluffy flower, but I remembered this quote from when I had to read this depressing book in Junior High. :-)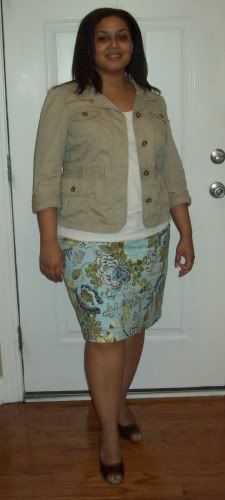 The Stuff:
Khaki Four Pocket Jacket
- Loft $38. Might still be in local stores.
Merona Shirred Double Layer Te
e - Target $10 - Is sold out online! Weird. I will say its not see-thru at all. Awesome!
"Our Signature Floral Pencil Skirt" Talbots $47. Sold out online. They do have a
pink floral print
pencil skirt, and a
sweater
in this same print.
Shoes are Aerosoles