So, did you guys go to today's Loft Event?
I stopped by briefly, and took some pics. Sorry for the Blackberry photos, it was a last min stop, so I didn't have my camera. Currently, the collections are focused around raspberry, a light peachy color, some navy items and lots of tans and light grays.
Here are some pics!
I really liked this Polka Dot Top top on lots of other bloggers, so I was glad to finally get a chance to try it on. Sadly, it does nada for me. Booo. It is no longer online. The skirt is called the
Iconic Pencil Skirt
($49.50).
Don't even like it with a cardigan LOL. Although this one is pretty cute - it has a chiffon rose detail in navy and ivory polka dots like the above top. This is called the
Dot Rosette Crew Cardigan.
This jacket is the
Cotton Dobby Jacket with Ruched Collar
.($89.50) Its shown below with the same skirt, and a slub tee. If you like this, you will probably need to size down, I sometimes wear a 14, but usually a 16 at the Loft, and this jacket I have on is a 12!!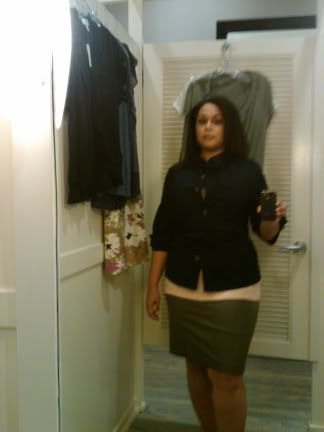 And this is it with my own jeans.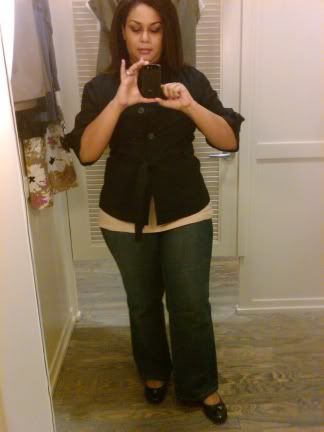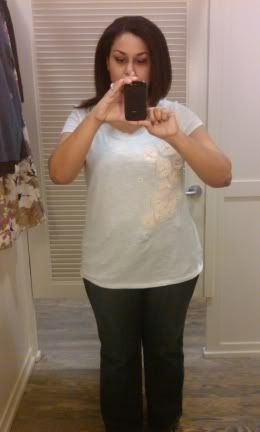 They had a whole bunch of these slub yarn tees in grey, peach and tan - lighter colors are completely see through, on me anyways. I have too much grey to begin with so I passed on all these. These were all $39.50 I think.
Even though I don't usually find myself attracted to prints, I thought this
Scattered Blossoms Dress
($79.50)was pretty cute, so I gave it a try. I wore it under the
Flutter Open Front Cardigan
($49.50) which is a nice fabrication of cotton/linen.
Aaand am not a fan LOL I felt like it was showing way too much skin for me to be comfortable. And the colors are not right for me anyway.
I thought the pricing of all the items I liked was a little outrageous. Compared to usual pricing this collection seemed a little high. Today, everything was 30% off, as noted in my deals post yesterday, and honestly, that just made the items feel like they were the correct price.
I did get the jacket - I am hoping to get alot of wear out of it. If you liked any of this stuff and want to buy online, the 30% was Sat only, but save 20% on orders over $100 with coupon code 174000613 until April 4th. :-)