Today rather boring clothing wise. I did not feel too hot, and when I woke up it was POURING rain. Buckets! So, I tossed on some "ol reliables" - completely ignoring what I picked out today, and here we are. Some good news is that we may get up the 80s this week!!! I can't wait!!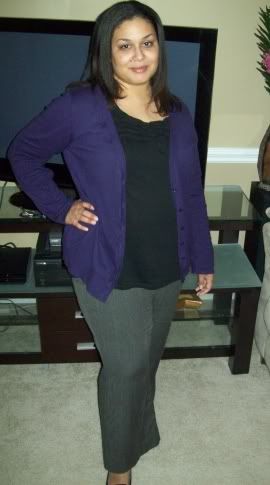 The Stuff:
Purple BF Cardigan - Loft $20
Pants -Limited $17
Tee Shirt - Loft
I realized late in the afternoon that I forgot to "put my eyebrows on"! Yikes!!
Face: Korres Vitamin E Primer, Korres Wild Rose Foundation WRF4, Korres Wild Rose Powder WRP5
Eyes: Smashbox
Untamed Shadow Liners
in "Exotic" - Liliac on entire lid, Deep Purple in Crease. Followed up with a light wash of Urban Decay AC/DC over the whole thing. Black Liner (Korres Soft Liner), Korres Mascara
Lips - Korres Mango Lipstick in Natural Brown

Speaking of bad weather, earlier today, I used the phrase "stole my thunder" and immediately wondered where that phrase came from. I googled it, and found
this site
, which who knows how reliable it is? Anyways, here is the story from the site:
The popular phrase "stole my thunder" was coined by John Dennis, an English critic and playwright. In 1709 John Dennis wrote a play called Appius and Virginia. For Appius and Virginia, Dennis created a way to simulate the sound of thunder. The thunder was well liked by the crowd however Appius and Virginia was not. Dennis was forced to cancel Appius and Virginia because the theater was not happy with its lack of audience. Later Dennis returned to the same theater to see Shakespeare's Macbeth. As Dennis sat in the crowd he realized they were using the same method that Dennis used to create thunder. Dennis stood up and screamed, "That's my thunder, by God! The villains will not play my play but they steal my thunder."
As always, thanks for reading!!