This one looks a little odd in the photo...but its not that odd in person. :-) I had my alternate photographer tonight.
So my pretties, we got tickets to Wicked in May, (say "Tickets to Wicked in May" a whole bunch of times like "Follow the Yellow Brick Road" - its fun!) and I am trying to decide how to work this cardi into my outfit. I usually don't wear cardigans to the theater, since it feels pretty casual without a jacket, especially since I always wear pants, so I am working on it. :-)

The Stuff:
Elphaba Thropp Green Cardigan - Talbots $30
Charcoal Denim Skirt - Chadwicks $15
Tights - Chadwicks - $4
Tee Shirt - Loft $5
Scarf - Talbots 18
I may have mentioned I wear my glasses all day, and change into contacts at home and on the weekends, I thought I would show you my specs. :-) Sorry for the glare, that's why I don't take pics with them.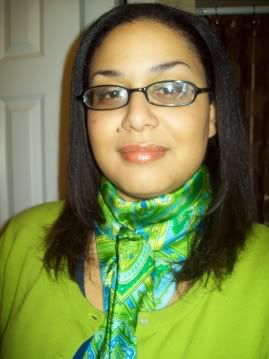 These eyeshadow colors aren't right in the photo boooo. They are a gold, a limey green and then blue teal in crease. Oh well. :-)