Hey everyone, happy Wednesday!
I love this scarf so much - I need some more though, what color(s) do you think I should get?
Oh! a while back, I bought the
Korres Vitamin E Primer
, and
Wild Rose Foundation
. In the past couple of weeks, I have dropped the Laura Mercier Primer and MAC Studio Fix completely from my routine and am just using the Korres product as my base. Seriously, my simultaneously oily and dry combination skin is looking better than it has in years. I did not change any thing else in my routine. Like in today's photo below I have on NO makeup and while I look tired I think my skin is looking just fine when I used to not even want to be seen without full coverage. Anyways, if you are looking for a change in your routine, maybe check
Korres
out. Also, look for coupon codes (and links to codes) on their
Facebook Page
.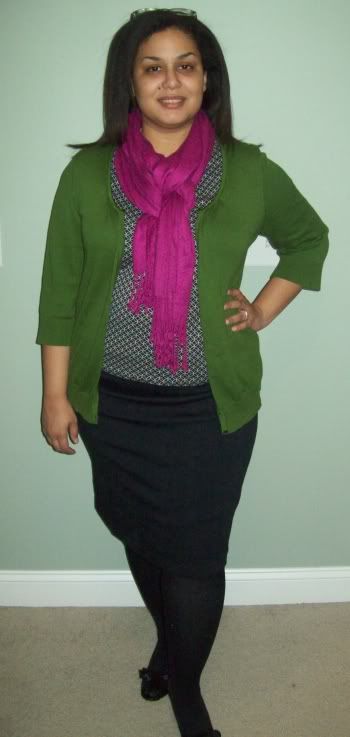 Green Cardigan - Talbots - Free after Classic Awards Dividend Check
Black and White Tee - Talbots $6
Ponte Knit Skirt - Chadwicks $15
Tights - Kmart $6
Aerosoles Shoes
Pink Scarf - Chadwicks $4
Note: Korres has not provided any samples for consideration etc etc. I was neither bribed nor threatened into posting about them. LOL! Just something I have tried and wanted to share with you all! :-)