Oh, guess what?I went into a thrift store. Aren't you guys proud of me? We went to find my kiddo her birthday party "costume" - she looked amazing BTW - I will post pics of her later. And while I was there, I decided to take a peek at the jackets for me! And, I found something! Look!!!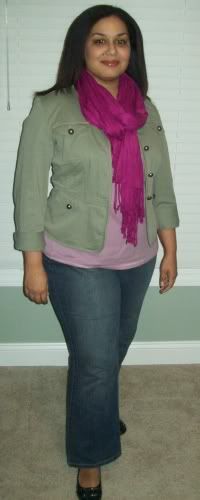 I love the collar, and the buttons and the shape! Its in perfect condition too!!
The Stuff:
"Rose Berry"Scarf - Chadwicks $4 (
sold out but other colors $14.99)
Petal Tee - Loft $15
Jeans - Talbots $20
Jacket - THIFTED!! - Talbots $4
Forest Green Patent Flats - Talbots Clearance Center in Atlanta, GA $12
The other stuff:
Basic Work Makeup Today....
Face: Korres Wild Rose Foundation in WRF4, Lancome Blush in Sheer Amourrose
Eyes: Korres Eyeshadow in White all over lid, Makeup Forever Aqua Eyes in Black
Lips: Cat Cosmetics Lip Liner in Buck Naked, Korres Mango Lipstick in Natural Purple, Korres Lip Butter in Jasmine.
As always - thank you for reading!!