We went and saw Jesus Christ Superstar Friday night. I always love to see how people dress for lots of sitting with a brief intermission breaking it up. Some people dress to the nines, and others wear denim shorts and sandals. Well, perhaps the particular show had some influence on that.
I could not believe, my jaw dropped - the gentleman who was playing Jesus played him in the movie. IN 1974!!@@@@!!!!!! He looks a bit more like Moses at this point, but sounds good nonetheless. Great cast overall! Oh except Simon, his singing didn't do it for me.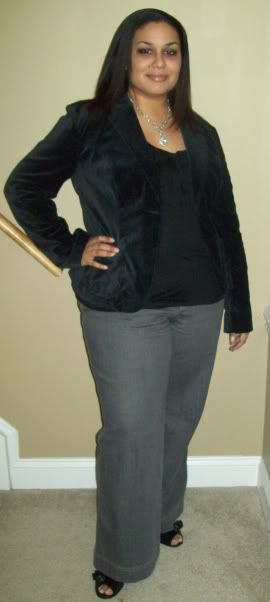 The Stuff:
Velveteen Blazer
- Chadwicks $20
Black Tee - Loft $4.88
Gray Jeans
- JJill $17.99
This photo was taken after we returned home, I am glad I grabbed the waterproof eyeliner as my eyes got a little teary due to fog and strobe lights. :-/
A smoky eye:
Lauren Luke Palette
- Antique Pewter as blending color and Twilight Ash on lid and in crease,
MUFE Aqua Eyes
Eyeliner in Matte Black
Face: Korres
Wild Rose Foundation in WRF4
and
Wild Rose Powder in WRF5
, Korres
Bronzer in Sunglow Warm
Lips:
Cat Cosmetics Lipliner
in Buck Naked Lips, Korres Mango Lipstick in Natural Brown
Korres Website is worthless for swatches. Google the color you like if you want to see swatches - people swatch and blog their products all the time. Korres coupon code
KATIE
gets 30% off exp. 4/14/10.