What did you guys get? Did you hit up the F&F at the Gap Family Stores?
I received my super cheapo goodies from Talbot's Friday, so didn't go for the F&F. Oh, and I also hit up a MAC Counter, and got the most beautiful blush! You have to check this out.
My Precioussss:
Mac Ripe Peach Ombre is sold out online, but still at some counters - at least here in NC I snagged one. The top color is a pretty peach glow, bottom color is a nice corally color, and mixed together, they are inbetwixt. Its pretty.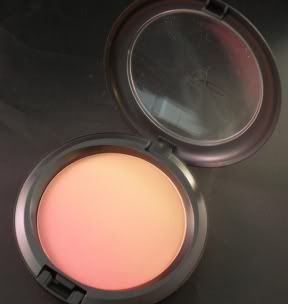 Talbots Goodies:
(Most of these are gone now, but I tried to find pics of the ones that are gone from inventory.)
:-)
With Links:
225188
White tunic blouse
W Petite 14 WHITE 1 @ $7.80 Each
225650
Striped shirt
W Petite X BLACK 1 @ $7.80 Each
Pics Only, Gone Online:
225748 Sweater W Petite X SUNFLOWER 1 @ $6.94 Each
225821 Waist-tie cardigan W Petite X WILD ROSE 1 @ $6.60 Each
No pic no link. :-/
225765 Cardigan W Petite X WHITE 1 @ $6.80 Each
I am returning as it was too big in the waist:
224142
Yoke-waist skirt
W Petite 16 BALSAM TAN 1 @ $11.00 Each