Here is some stuff from the weekend. I thought I would post it, since I have proof that I wore patterns. ;-)
Sat: Matchy Matchy Day: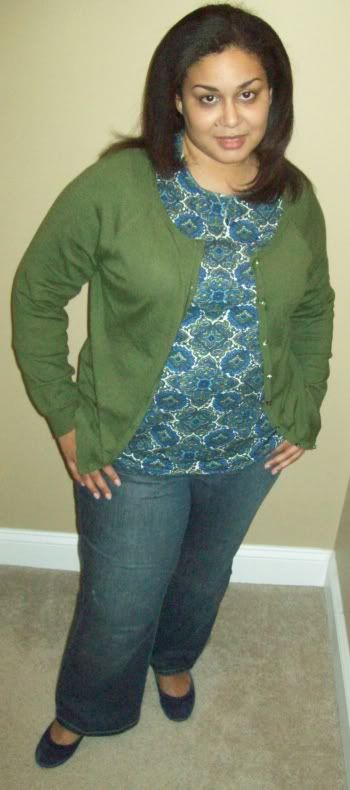 Printed Tee - Macys $7.50
Green Cardigan - Talbots $18
Jeans - Talbots $20
Shoes - Talbots
Here is the bag I wore with it.
Sunday:
Coat - Macys $14.50
Jeans - Talbots $20
Black Tee - Loft $?
Shoes -Chadwicks $11
Here is the Makeup I wore with it:
Eyes: Antique Pewter and Twilight Ash Eyeshadow, Black Cream Liner from the Lauren Luke "My Smokey Classics" Palette, Black Mascara by Korres
Lips - Buck Naked Lipliner by Cat Cosmetics and Striptease Gloss by Nars
Cheeks - Plum Foolery Blush by MAC
Thanks for reading!!