Well, we started in the 60s this week, but today we got rain, which is turning into a "winter mix" overnight. Ah well. So much for the hope of spring on the horizon. How is it in your neck of the woods? (Move over Al Roker)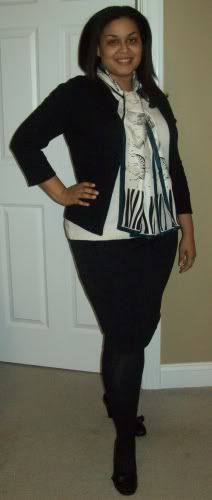 Cream Shell - Loft $?? I think $15ish, it was a loong time ago.
Black Cardi - Loft $20
Black ponte knit skirt - Chadwicks $15
the Zebra Scarf - Talbots $9
Tights - Kmart $6
Shoes -Aerosoles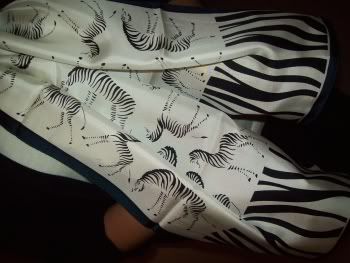 Yesterday, Mel asked about some the deals I find at Talbot's, so I wanted to take a sec and answer. I do almost all my shopping online. I wear the 12WP in tops and jackets and they actually do not usually carry that ONE particular size in the stores (go figure). One thing I like about them is that items online, and in stores are almost always priced identically, and its rare that they offer a sale that applies to online only or in store only.
At any rate, Talbot's adds a new catalog monthly, and puts items from the 2-3 previous catalogs on sale. It seems the first markdown is usually between 20-40%, give or take. A few times a year they have a "Red Hanger Sale" where the prices are marked down a touch more, maybe 10-15%...However, sometimes during holiday weekends, and halfway through the red hanger sale, they offer an additional 40% or 50% off the sale prices. This is the clearance gold. Its temporary and they do put the prices back up afterward.
I always post when that is on - but be warned - its super easy to find a cartload of stuff that is in the $15-$25 range. I always have to do a reality check (for example: Am I REALLY gonna wear a paisley blouse?) ....Recently, they did this over President's Day. So, just keep your eyes peeled, since I check Talbots REGULARLY (ha!), I usually post about the sales before the emails go out.
Thanks for the question, and I hope this helped!