Hi everyone! Hope your week is going well. Be sure and enter my
giveaway
, I will be drawing Sunday night. There are not very many people signed up, so odds are good. :-)
I just realised I wore the same pair of shoes 3 days in a row. LOL. I should not do that. Bad "what I wore today" blogger!!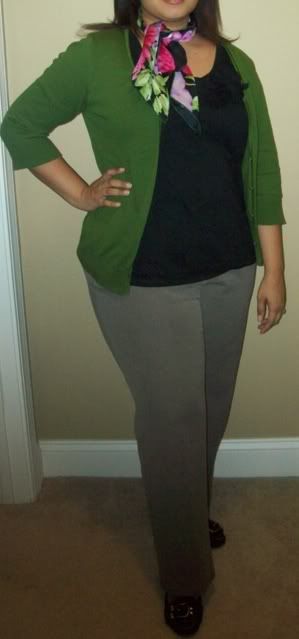 The Stuff:
Black Tee - Loft $14
Green Cardi - Talbots (free after using rewards from classic awards program)
Taupe Pants - Talbots $31
Scarf - Talbots - Free (won giveaway)
Oh - cool note - Amazon just released a free
Kindle reader for Blackberry
. I am thrilled about this because it seems like I end up getting stuck places without a book all the time! I will just download a couple of faves now, and have them just in case!
As always, thanks so much for reading!