Hi All!
I tend to try and read the books that my daughter reads so we can talk about them, though with my own reading list, and she being a voracious reader, its hard to keep up. Well, while she is re-reading the Harry Potter books, I am catching up with her most recent series. (I think Twilight is behind us for awhile - thank goodness!) At any rate, she is reading a series called Percy Jackson and the Olympians, (there is an upcoming film) and I love these books. They are soo cute! I read the first 2 tonight, they were only about an hour long read each, and will probably finish off the series this weekend.
When I was her age, I loved the Greek and Roman God/Goddess stories, and this series makes such clever use of them. Its Harry Potter meets Hercules. Anyways, cute fun little reads if you have kids in the 10-13 age range, I think they will love them. Or if you, yourself liked the Harry Potter books, maybe try these - I did enjoy the second book a little more than the first.
Ok, on to the clothing! Nothing groundbreaking today, I am seriously just trying to keep warm. It is not that cold, but if I never believed the old wives tale about "thinner blood" after living somewhere warm, I am starting to believe it. I am chilled to the bones daily and it is in the 40s.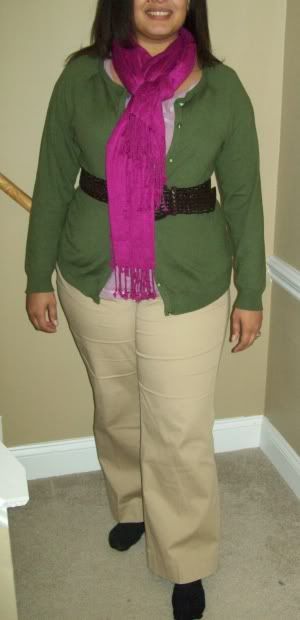 I did not intend to leave the raspberry scarf on all day, it was supposed to be outerwear, but it stuck around for most of the day because I was chilly.
Moonstone Button Cardigan in Valley Green - Talbots $17
(price back up to $30)
Placed Petal Tee - Loft $10
Woven Belt - New York and CO $1.99
Bedford Cord Trousers - Talbots $27
(currently $45 and in Plus Petites only)
Necklace QVC