Hope everyone is well! I am watching this wonderful telethon "Hope for Haiti Now" - OMG Jennifer Hudson looks beautiful!!! Holy moly. The music tonight is wonderful!! Clooney really knows how to run a telethon.
So a couple of days ago, I got a small little box from JJill from their recent 40% off sale, and I have to say I am kicking myself for not purchasing more than I did. I love the jeans I got from there so very much. I have another pair of pants from there, and like those quite a bit as well, so I guess its not a fluke.
I will be putting them in my regular "hunting" rotation. I am not usually very excited by their catalogs - the styling of the models in the catalogs looks like they are settling down for a long day of relaxing and reading the newspaper and taking long leisurely walks on the beach, or puttering in the garden. Never quite gets my blood boiling - but I am really impressed with the couple of items I have now.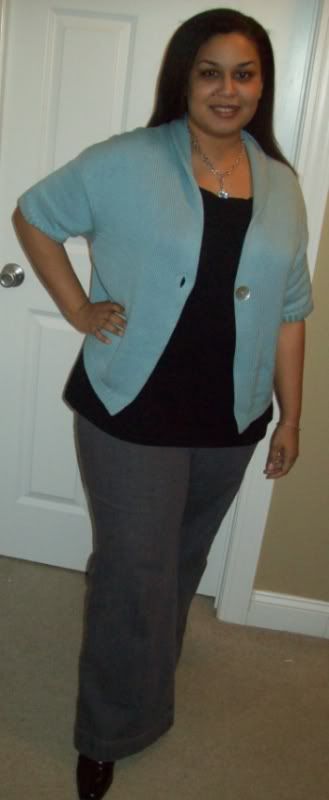 The Stuff:
Black Pintuck Tee - Loft $14
Blue Cardigan -
J Jill $17.99
(Price is back up to $29.99)
Grey Jeans -
JJill $17.99
(Price is back up to $29.99)
Necklace - QVC
Bracelet - Kohls