Hi all! Firstly, I want to say I am so glad you guys are entering the giveaway - also, its killing me not to write to everyone back LOL - but I want to leave the comments clean for the "random number generator" to select a winner.
This is actually my fourth day in a row sans cardigan! Are you guys proud? LOL. I didn't post Tuesday, but I didn't wear one, scouts honor. :-) I do have one planned for tomorrow, but hey, four days might be a record since its gotten so cold.
Jacket - Talbots $50
Tee - Loft $20
Pants - Limited $17
Shoes - Chadwicks $11
And a close up of the shirt. As I was wearing it earlier, it started to dawn on me that the little squares of paper remind of those bits of tissue that men stick on their face when they cut themselves shaving. :-P Oh well. I still like it anyway. Hehe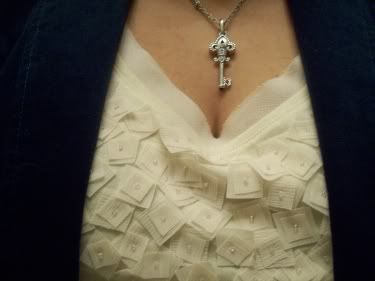 And yes, a quick flash.