Today's problem child should have been a no-brainer. I bought a wool, tweed pencil skirt in "grey" the photo clearly showed a tweed skirt in a variety of greys...
However, when I opened the package - the colors were - grey and....... brown and taupe and teal and peach and....well, see here for yourself: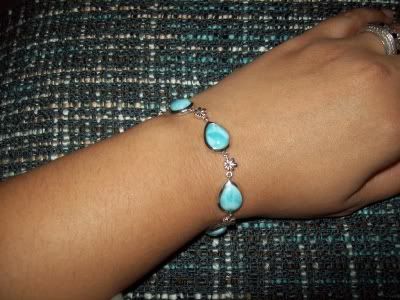 I decided to keep it, because I thought it was a little more unique than just a grey tweed skirt - but I have been loathe to reach for it for some reason. I hold up blues, and peaches and creams and taupes, and they all come across as odd when paired with the skirt. SO back on the hanger it goes.
Well, today, I was determined to make it work, so I wore this:
Light Grey Jacket - Chadwicks $12 after coupon
Dark Grey Tee - Loft $14.50
Skirt - Spiegel $29
Tights - Chadwicks $3 after coupon
Larimar Necklace and Bracelet - Marahlago
Whats the problem with the skirt?
Odd coloration
Did my solution work?
Yes, but I wonder what else will pair well with it. And I thought the outfit was a little boooring with all the gray. YAWN!!
Will it make another appearance?
Magic 8 Ball
says: It is certain.
That magic 8-ball is awfully positive! Although, I suppose it is skewed to the positive - 10 of the possible options are positive and 5 are neutral and only 5 are negative..