I started the week with an old favorite - and thought I'd end it on a new favorite! I have had this less than a month, and have trotted it out several times - favoring it over many others. I got the key from QVC (theme here?) and its by Judith Ripka. The chain is actually part of another set that I wore for my wedding - also from the Q by JR. This has a Fleur de Lis at the top, and a small amethyst at the bottom. I tend to purchase lots of amythest because its my daughter's birthstone. I figure I like purple, and someday she will get all the jewels anyways. :-)
Lots of people love fleur de lis - all for different reasons. I took French in junior high and high school. My high school teacher was a hard ass, but I learned how to conjugate a mofo verb that's for sure. She was French for real, and took it verrry seriously. I graduated high school a semester early, and due to some other circumstances, was not able to take the trip to Paris that all other seniors who took more than 3 yrs of French went on. I remember when I told her, she cried. :-( And my last day of school she brought me a little photo album that had a Fleur De Lis on the cover - there was a nice note inside (en francais, mais oui!) indicating that she expected me to go someday and fill the album with photos. The album is still empty, but someday.... My father in law's family is French Martinique with family in both Martinique and France, so my hubby's grandmother sometimes will speak to me in French if she wants to say something that is not for everyone's ears. ;-)
So, a long story for a small pendant. :-)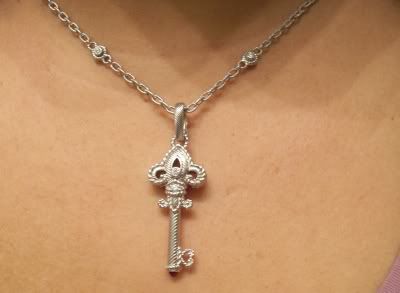 Continuing my day of "new" favorites, these are some recent purchases, that I find myself reaching for often.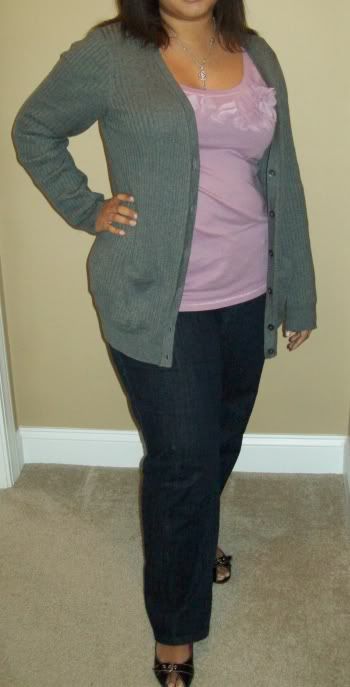 Sweater - Loft $19.00
Placed Petal Tee - Loft $14.50 (on sale again for $12.75)
Jeans - Talbots $20
Neclace and Pendant - QVC / Judith Ripka
Shoes - Loft $10
P.S. Thank you all so much for the kinds words during my convalescence LOL! I feel better, but still look like crap, so I am sparing you today - I don't know what I was thinking posting my face this past week. LOL!!