The Stuff:
Shirt - Loft $3.66
Cardigan - New York and CO $20
Skirt - Talbots $29
Shoes - Rampage vis Belk $13
Necklace - Marahlago via Venetian Jewelers (Nassau, Bahamas)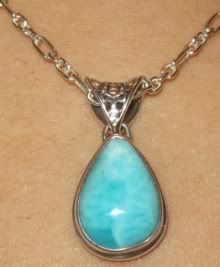 This stone is
Larimar
, native only to the Dominican Republic. When we were in DR during our honeymoon, I couldn't seem to find the right pieces, but at a jewelry store in the Bahamas I found this and a ring I loved, and my hubby got them for me! :-) I love how the stones look like the ocean with all the variations (its a volcanic stone). The brand,
Marahlago
has the best pieces - and a cute little silver flower on the backside of each piece.