So this is one that doesn't photograph that well, but is very pretty IRL. I catch lots of people looking at it - hopefully because they like it. :-) It is a carved MOP flower. I am wearing it on a silver textured link toggle chain. The toggle has small sapphires on the endcaps. Just one of those little details most people won't necessarily see, but that I love.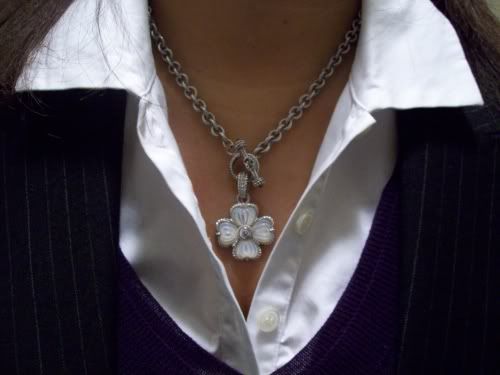 I actually came home sick today around 3, and crashed on the couch. So I apologize, but you are getting the outfit after a nap, and "just woke up" face. :-)
The Stuff:
Button Down - Talbots $23
Sweater - Loft $14
"Ankle Pants" - Loft $20
Jacket - Talbots $45
Necklace/Pendant - QVC (pendant discontinued, chain still available)
Shoes - Aerosoles
P.S. I promise I didn't wear grey pants 3 days in a row LOL. Monday was black/white herringbone, Tuesday was Navy/White herringbone and today was actually grey LOL!