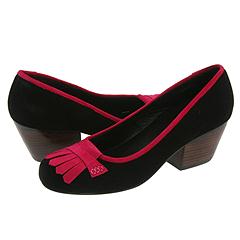 6pm is the clearance site for Zappos, but for whatever reason, they only kept the
statistics
from Zappos, not the actual reviews. Its annoying, because it will say "25% of people thought it was true to size". So - did the other 75% think it was too small or too big? LOL. NO help. And of course, since they are liquidating on 6pm, they are gone from Zappos in most cases. (I really am going somewhere with this - I promise its not just a cranky rank LOL)
I really prefer reading reading reviews before buying because I really fall between a 7.5 and an 8, and can often need narrows - so shoes that are on the larger side... fall off my feet. Usually people mention all kinds of clues in their reviews than can help me determine what size I need to order.
While surfing for any reviews online for a certain shoe, I found another site:
Buzzillions.co
m
that actually cached the Zappos reviews! So, if you are looking at some shoes on 6pm, just open Buzzillions on another tab and enter the shoe model, and voila! If there were any Zappos (or Amazon, or other) reviews for the shoe, you will be able to read them.
Also,
Type-Z shoes are on sale at 6pm for $15.95
, and I got the shoes pictured above in the mail yesterday. They are cute and comfy. I needed a 7.5, not an 8, but thanks to interpreting the
reviews written by people
(originally on Zappos) and aggregated by Buzzillions, I was able to get the correct size.
Hope this is a neat tool for you as well! Happy Hunting!