My goal tonight was to try on a suit I saw in the September issue of Lucky. Here is the way they showed it in the magazine and at Kmart.com
My Pictures:
I went in and found the suit. I tried real hard, but for some reason, the brightness of the pink would NOT photograph in the mirror. It kept looking like a blurry mess.. I went ahead and tried it on in the other colorway they have so we could see what it looked like shapewise. (Different names online, but exact same fit/suit.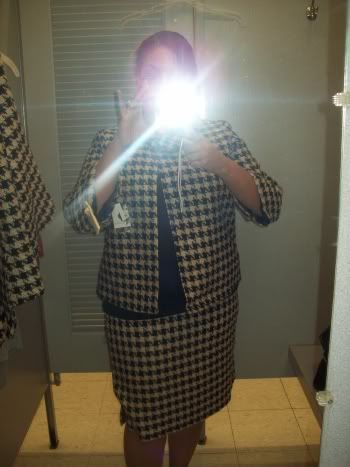 The jacket is cut to stay open, as shown. Its cut diagonally away from the collar.
The pink colors IRL - very bright. Could skew towards cheap looking if you do not find one that looks perfect. (The houndstooth was also very pronounced. These are not subtle suits!)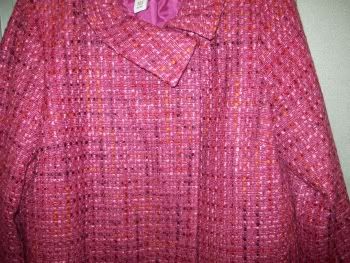 Lets see....
The positive to this outfit is that it is relatively cheap...and would be a good way to get this look without putting out alot of cash. The cost is $25 for the jacket and $20 for the skirt - on sale this week.
Sadly, my figure was totally lost in the jacket - its a true swing jacket, and no where near as fitted as it looks in the ad. The skirt was not sewed well to the lining, so it was all twisted up on the sides - but not all were like this. I felt very mumsy in the full outfit, but the jacket looks strange alone.
Verdict: You must try this on in person. Do not buy online, the sizing is odd, and you have to find the good ones (turn it inside out.) Overall, ok for the price, but be wary. Its not for me, but maybe someone else.
I also found a cute little jacket, and the pic of the tag did not come out, and I cannot find it online. Sorry!! The sleeves are lined in the contrast material. If anyone has any info on it, let me know!